Hey, I post for the
Graz Metroblog
, now. Here's one of my posts from there..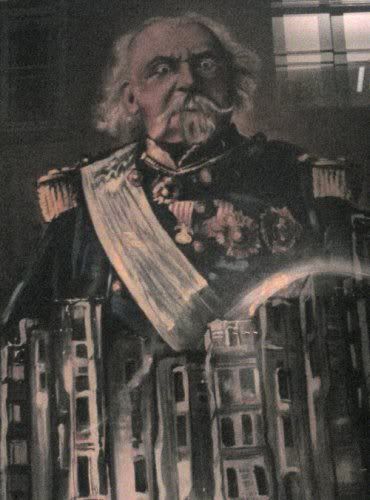 The General is for sale in a little shop on Burgergasse for 100E. He's at a discount, though, because the owner is switching his art stock from traditional and landscapes to modern art. I thought the subject of the painting expressed the store owner's quandry as well as the artist's point of view of traditional versus modern (values, architecture, fill-in-the-blank). A cuple of store windows up, is a modern art gallery where the current artist on exhibit features spalshed-on stick-figure people with blank faces. I tried to talk my husband into adopting The General and taking him home with us, but we agreed that the shocked look in his face would be a little difficult to take every day - it makes me jump every time I walk by it.

Sorry for the grany photo (I took it at night, with reflections on the store window), the live version is much more colorful!