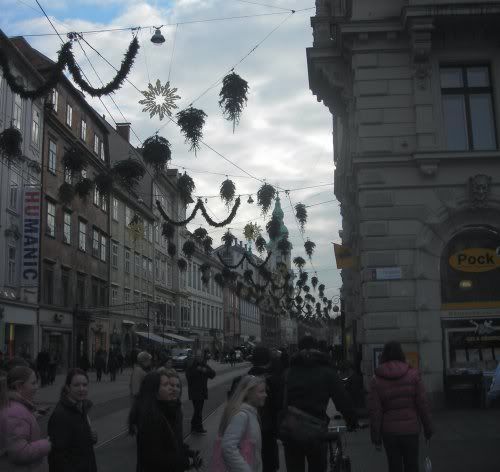 Herrengasse, the main drag here in Graz is covered by a web of upsidedown Christmas trees.
Right before I left the U.S. all the morning talk show were extolling the virtues of upsidedown Christmas trees. You can put more and bigger presents underneat them. You can purchase the artificial tree with a stand at the top... oh wait, it's at the bottom. Or you can buy a traditional tree and just hang it from the ceiling to take up less floor space and fit, even more presents, underneath. Are you starting to see a trend here?
I've ready and heard, and
read
, some complaints about this. Apperently Graz does something new and different every year, but for everyone, including myself when I first saw them, I was a little surprised at this level of "artsy fartsy."
So, I was a little shocked that such blatant commercialisim would hit Europe, so early.
But when I saw them at night... I changed my mind.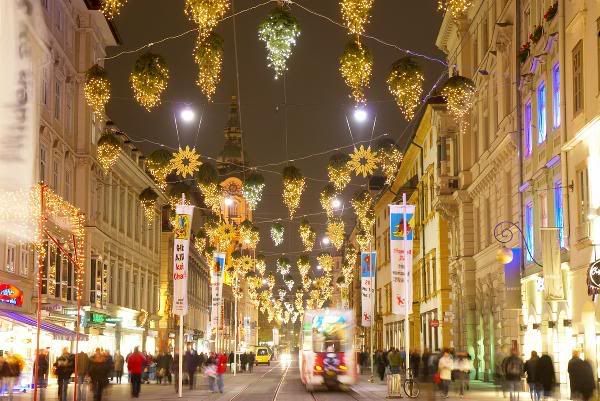 Herrengasse is turned into a grand ballroom. The trees become the chandaliers. People dance around crunching on discarded
maroni
(chestnut) shells and toasting with a mug of warmed mulled wine.
Beautiful!
Night image, courtesy of Graz Tourist Board.