Ok, since my scary devil on the street experience I've been able to find out more details about what it all means. Apparently, what I saw - a little early for St. Nick's day - were
Krampus
.
On the evening of St. Nicholas day (December 5th) we were invited to an Austrian household to experience this tradition. We drank tea, sang songs along with a guitar awaiting the arrival of St. Nicholas. We heard a knock at the door.... in came a man dressed like a bishop and his helper (Krampus). Generally Krampus didn't used to look like such a Hollywood version of the Devils I saw. But he is supposed to be dark, hairy, horny, mischievous and with a long red tongue.
When the door opened Tortellino ran towards it. When he saw the golden robe and pointy hat, he ran right back to the safety of my legs. St. Nicholas read a prayer mentioning the name of every child and noting if they had been good or bad. If they had been bad, the Krampus would give them a little tap on the head with a birch tree branch (nobody was bad during this visit). If they were good, St. Nicholas gave them a red bag with their name on it filled with nuts and fruit (and candy and chocolates).
Then, every child was blessed and the visit ended with the kids tearing their sacks open and St. Nicholas and the Krampus leaving the home.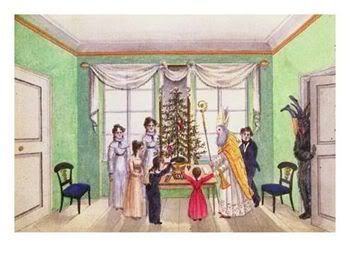 This week, we celebrate the Italian Santa Lucia on the 13th - I still have to find out what
that
is all about. It was so automatic when I was a little girl but now that I'm a parent I need to find out all the details so that Tortellino can experience the full holiday.
In Europe December is one feast day after the other - through mid-January - so they really do feel like Holidays with something different to celebrate every week. In the US kids just have Thanksgiving and Christmas day.