Ok, fastforward a year or so since my last post and here I am posting from Graz, Austria.
We got here four weeks ago and are stayin in a furnished apartment until we can find a home to buy. My husband's company procured it while we were
in flight
to Austria. It's very central but a total PARTY spot - completely NOT equipped for a toddler.
Tortellino has already broken a glass lamp, burned himself on the oven front (apparently they don't insulate them here), squished his finger in the front door and gotten a big, hot, flying splash of boiling polenta on his face!
Not only is this apartment unequipped for a toddler, it's completely not designed for stays longer than a few days or weeks - it's mostly used by actors who perform at the theater at the other end of
FreheitPlaz
.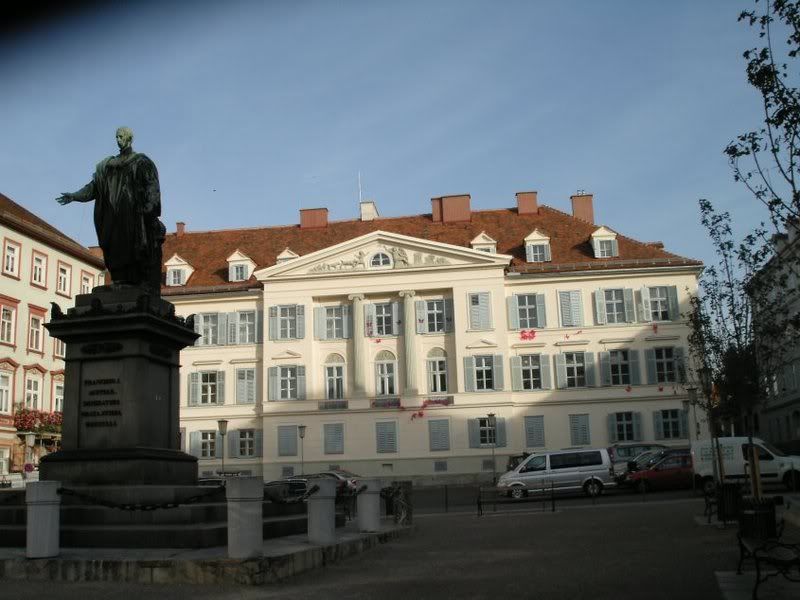 We do have a nice view of the bald-spot on the head of Francis I from our window - it turned into a little white toupee last week during the first snow.
It features a sunken couch - complete with cigarette burns - an open (practically walk-in fireplace) with no kind of gate, grate or anything, a dining room table that is about 3km away from the kitchen (it's a long trip to get the salt) and a large painting of two Raphaelesque angels looking up, contemplating life, while smoking cigarettes and caressing their beers.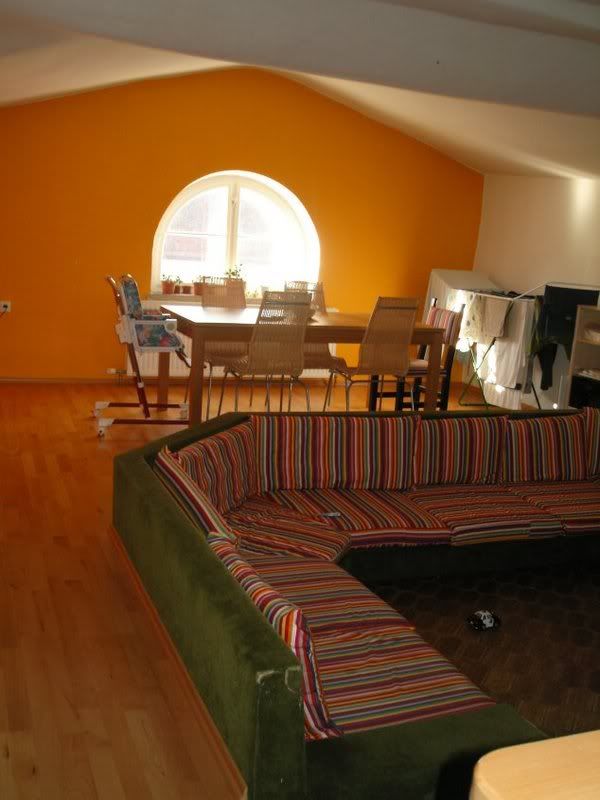 Oh... did I mention the wicker chairs that are unwinding themselves? Total toddler magnet!
And my favorite design feature... our living/dining room has one orange wall, one burgundy wall and one mustard wall. Believe me, it's not as bad as our bedroom that has one turquoise wall!
I do have something to be thankful for, though. My husband's new boss and co-workers descended the evening we arrived with a high-chair, changing table, crib and other infant paraphanalia.
So now it's the family partly place.
oooooh, music
For being such a young, hip apartment it was lacking one essential piece of equipment - a RADIO! Since hubby works late, the stores are closed on Sundays and I can't get too far our of town on a bus it's taken us quite a while to find the electronics stores here. Yesterday we finally found a RADIO!!! I didn't realize how much we missed music 'til Tortellino was jamming to Radio Slovenia's classical music and entertaining himself (that is, not wound between my legs asking for attention) while I was working in the kitchen and grating vegetables to the beat.
'Til now we've been making the best of the three Putamayo Children's CD's I brought and Microsoft Window's Media Player's psychedelic renditions of the music (which totally hypnotized Tortellino BTW - I hope there are no after-effects of too much Media-player renditions).