As I mentioned, we live in a party hardy apartment and other key things that were missing included simple cooking implements and non-stick pans.
One IKEA start-box later... we were cooking!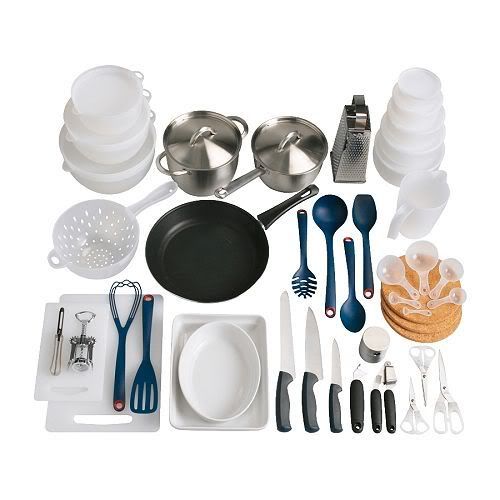 It came with everything, including a kitchen timer, tivets, garlic press and a weird manual can-opener. The cold weather, abundance of left-overs, and a ridicuolously huge supply of apples and pears has had me cranking out casseroles and cobblers.
However, my latest
piece de resistance
, has been the ability to reverse engineer the most delicious cutlet (Schnitzel) recipe from Bergwith, a restaurant at the top of a hill on Petersbergenstrasse, in Graz of course! It's got a really delicious garlichy-but not bitter or overpowering-flavor that truly surpised me when I tasted it. A squirt of lemong and you're in Schnitzel heaven...It took me three tries but I was finally able to perfect it!
Knoblauch Schnitzel (Austrian Garlic Cutlets)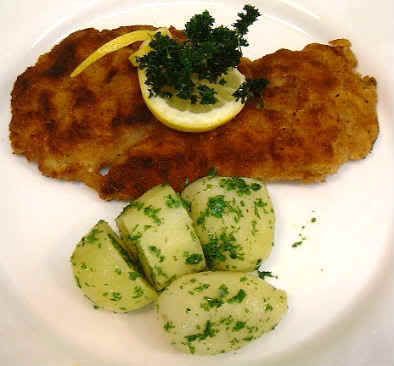 This recipe requires a ridiculous amount of dishes, so if you're like me and don't have a dishwasher consider using paper plates or... make a big batch - freeze the rest for later and you won't need to do all those dishes quite so often.

Traditional recipes use Vollkorn bread crumbs (whole wheat)- easy to find in Austria difficult to find elswhere. Sometimes, you can find the crackers and if that's the case buy a pack of those, thorw them in the chopper and make your own vollkorn bread crumbs! Otherwise, you can substitute your garden variety bread crumbs.

6 Veal Cutlets
2 cups of Wheat Bread Crumbs
2 Heads of Garlic
2 Large Eggs
2 tsp. of Sea Salt
pepper - to taste
2 lemons
4 TBSP of Light Olive Oil

Prepare the garlic spread first. Crush all the cloves of garlic and mix them well with te 2 tsp. of sea salt, the juice of 1/2 a lemon and pepper to taste (let it sit and "macerate" while you prepare the rest).

Set up, in assembly line fashion going towards your frying pan: a dish with the eggs (well beaten), a dish with the bread-crumbs. Turn your oven on to 350F and add a low wide oven dish (you will place the cutlets in here while making the rest so they alls tay warm).

In a low, wide, frying pan add the oil and turn the heat to high. Test if it's ready by throwing a couple of bread-crumbs and seeing if it sizzles. If they sizzle.. it's ready!

For each veal cutlet thinly spread (preferably with a butter or non-sharp knife)the garlic mixture on both sides; then coat the cutlet with the eggs; then, coat the cutlet with the breadcrumbs; then, place delicately in the hot oil in the frying pan. Let it sizzle for about 3 minutes - then check for a golden brown crust, flip, sizzle for a few minutes more, then transfer to oven dish and proceed to the next one. If you have a large pan, or small cutlets you may be able to prepare more than one at a time.

Serve with wedges of lemon and serve with either rice or potato salad.

Gut Apetit!