Only two dishes can leave me with the most delightful food hangover that has me walking around on the tips of my toes, with my face towards the heavens, my eyes closed and a constant hum of "hmmmmmmmmm" coming from my lips post consumption. One of them is
Gnocchi alla Gorgonzola
.
My favorite Italian Restaurant in San Francisco,
Via Veneto
, has kept me supplied with my favorite dish for years. In fact, they make their potato gnocchi so fluffy and their gorgonzola sauce so creamy that I no longer ask for anything else. When my husband and I made reservations last year for Valentine's day and the owner saw my preplexed face looking over their special menu with heart-shaped crab ravioli and other loving dishies... he approached me with a knowing look, "
Signora
, we are not serving
gnocchi alla gorgonzola
tonight but if you like we can make a special batch just for you!"
Oh
yessss
!
Unlike most gorogonzola cream sauce recipes one might find on the internet, Via Vento, adds a dash of spinach. This unexpected cream sauce addition adds earthy undertones of flavor to what otherwise might be a monochromatic palatte. Though the owner has never parted with the recipe, last night I managed to sucessfuly reverse engineer it.
I now share it with you... happy food hangover!
gnocchi alla gorgonzola
If you're really brave, you can make the gnocchi from scratch though even the most seasoned chefs have failed at this endeavor. Also, this dish is both rich and filling so make sure that you serve small portions to your guests or they'll fall asleep after dinner!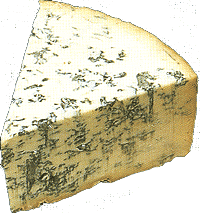 1 lb package of potato gnocchi
4 oz. of Gorgonzola Cheese
4 tbsp. of Unsalted Butter
1/2 cup of whole milk
1/4 cup of pecorino romano cheese
1/4 cup of frozen spinach
nutmeg to taste
black pepper to taste

In a large pasta pan, add water to 3/4 of the pan's capacity and a fist-full of sea salt and put on a high flame.

In a small sauce pan on a very low flame, melt the butter and add the milk. Cut your gorgonzola cheese into cubes and add it to the butter and milk. Pour in the grated pecorino romano cheese. Grind black pepper to taste (5 or 6 twists) and grate the nutmeg to taste (about 1/4 of a nut). Stir occasionally to ensure all the ingredients are combined and watch the sauce carefully. You don't want the sauce to simmer or boil (this will destroy the gorgonzola flavor). If you see the sauce starting to bubble, remove the pan from the flame to let it cool off and then put it back on the low flame only to keep it warm.

Prepare the pasta strainer in the sink. Add the frozen spinach to the strainer (it will be cooked with the pasta water) and rinse with warm water to soften. When the pasta pan water is boiling, add the potato gnocchi. Stir occasionally watching the gnocchi. When they have all floated to the top, strain the pasta in the strainer you have prepared with the frozen spinach, and put the gnocchi and spinach in the pasta pan. Pour the gorgonzola sauce on top and mix lightly.

Serve immediately.

Serves 4.
I have left-over gnocchi alla gorgonzola for lunch today.
Hmmmmmmmm!

Tip. Tap. Tip. Tap. Tip. Tap.